"In my first year as St Peter's head of school, I have been blown away by the resilience, adaptability and strength of character shown by all St Peter's pupils, but particularly those in Year 11.
Year 11 is known to be a highly challenging academic year, but none more so than for the Class of 2021. This has been a year of considerable disruption, change and uncertainty, which has been most acute for those in their exam year.
I am extremely proud of the results our pupils have worked so hard for, but also of the personal qualities they have developed.
This year is reminiscent of a passage from Romans (5:3-5) "We also celebrate in our tribulations, knowing that tribulation brings about perseverance; 4 and perseverance, proven character; and proven character, hope; 5 and hope does not disappoint, because the love of God has been poured out within our hearts through the Holy Spirit who was given to us."
Stephanie Garthwaite, head of school

"It's a great honour to be celebrating these excellent results with our Year 11 pupils. We look forward to seeing the exciting paths the class of 2021 take as they move onwards, knowing they will remain forever a part of the St Peter's family."

Michael Burns, executive head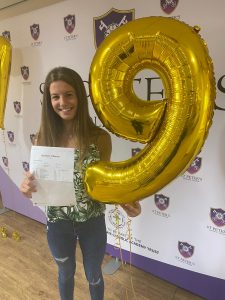 Essie Croce, a former pupil of St Margaret Clitherow's Primary School, has been an outstanding achiever throughout her time at St Peter's.

She is celebrating grade 9s in English literature, English language and RE, grade 8s in art, history and maths and an 8-7 in combined science. She also achieved the EBacc qualification.

Along with her twin, Tilly, Essie has been a key member of St Peter's highly successful netball team, playing with key stage 4 pupils from Year 8 and showing tremendous skill and talent. She has represented the school in many ways, most recently as head girl.
Essie now intends to study A-Levels in English literature, psychology and PE before going on to a career in sports psychology 
"I am over the moon with my results and so surprised," Essie said. "It hasn't been easy over the last five years, but I have loved every minute of it. Thank you for everything and getting me to where I am today."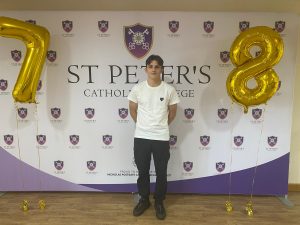 Franklin Jay Northridge joined St Peter's from St Gabriel's Catholic Primary School.
Since then he has represented the school football team and has been head boy throughout Year 11.
Franklin's grades include grade 8s in English literature, English language and RE, grades 8-7 in combined science, grade 7 in maths and history and a Level 2 distinction in BTEC Sport.
He now intends to study A-Levels in biology, history and English literature and would love to become a barrister. 
"I want to thank St Peter's for everything they have done for me," he said. "I wish my classmates the best of luck for the future."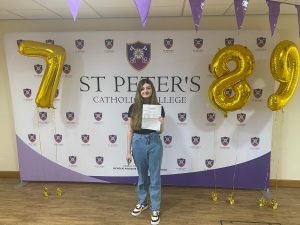 Isabel Willet joined St Peter's from St Margaret Clitherow's Catholic Primary and has been an outstanding pupil throughout her time at the school.

She achieved grade 9s in art, geography, RE and English language and grade 8s in biology, chemistry, French, maths and English literature, as well as the EBacc qualification.
Isabel intends to study A-Levels in art, biology and psychology.

"I am really happy with my results," said Isabel. "I have enjoyed my time at St Peter's and want to say thank you to the staff for being so helpful.

"Well done to my classmates who have all worked really hard and deserve good results."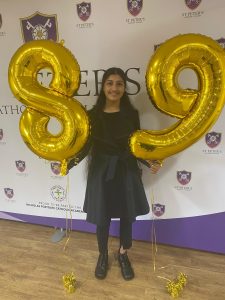 Zainab Zahid has represented the school at netball as well as being a prefect in her final year. She has been an outstanding pupil throughout her time at St Peter's and this is reflected in her results.

These include grade 9s in RE, biology, chemistry, physics, geography, English language and English literature, grade 8s in maths and French and an Level 2 distinction* in BTEC Sport.

Zainab will go on to study A-Levels in chemistry, biology, physics and maths as she looks towards a career in medicine or dentistry.

"My time at St Peter's has flown by, but every moment was special and I will never forget it," she said.

"Hard work is the key to success but without the staff I would only be halfway to where I am now. Thank you and good luck to everyone for the future."