Sacred Heart Catholic Secondary School, Redcar, headteacher Dr Patrick Caldwell said today's GCSE results underline the "resilience and tenacity" of the school's pupils.

"Our pupils have faced significant challenges over the successive lockdowns they have experienced in the past 18 months and have shown their resilience and tenacity to succeed," he said.

"We are so very proud of all the results awarded today – they represent a clear indication that our pupils were able to overcome the uncertainty and difficulty they faced and produce work to show their skills and knowledge.

"While the qualifications they receive today do them enormous credit, the qualities of resilience, determination and motivation they have gained will help them for a lifetime in the changing workplace they will enter in the next few years.

"We are immensely proud of everything they have achieved and I also pass my thanks to the staff who have also shown great determination in helping our pupils achieve so much.

"In this challenging year, the support of parents has been crucial as well. I am very grateful to them and to our governors for their unwavering support of the school and our pupils."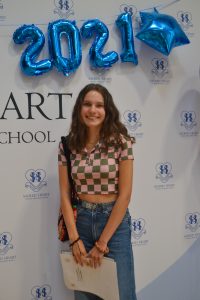 Among the success stories is Lauren Hinton, who secured eight grade 9s, an incredible achievement and testament to her hard work throughout her five years at Sacred Heart.

Lauren, a former student of St Paulinus Catholic Primary in Guisborough, showed impressive knowledge across all her subjects, including French, art and history. Lauren will now continue her studies at A-level.

"I really appreciate the time and effort all the teachers have put into helping and guiding me through this difficult year," she said. "Without them, I don't think I would've had the confidence to get the grades I did. I am forever grateful."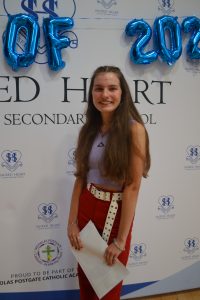 Another former St Paulinus pupil, Grace Hinton, secured an impressive nine grade 9s, including geography, art and RE. 
"Coming into Sacred Heart, I have always felt comfortable and loved my time here," she said.

"Thank you to the brilliant teachers and my amazing friends who have supported me. I cannot quite comprehend the results I have achieved. I am shocked, but most of all proud of myself and how much I have grown."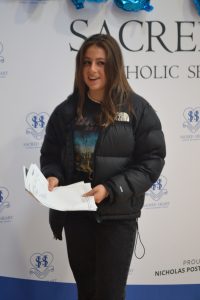 Libby Ramsey, a former pupil at St Gabriel's Catholic Primary in Ormesby, can be very proud of her results, which include a grade 9 in RE, grade 8 in English language and an 8-7 in combined science. She is excited to be going on to study A-levels.

"The last five years at Sacred Heart have been fantastic," she said. "I was able to succeed academically and achieve all of my goals."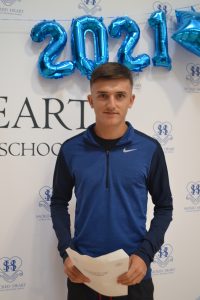 George McCormick secured a fantastic set of results, gaining grade 9s in PE, RE English language, English literature and maths.

The former pupil of St Benedict's Catholic Primary in Redcar is an excellent role model for others, having juggled his sporting ambitions and his studies so well.

George has now started a two-year sporting excellence apprenticeship with Middlesbrough Football Club.

George said: " I have really enjoyed myself at Sacred Heart. I am extremely grateful for all the staff who helped me along my journey and the support they gave me has paid off."