Head of Trinity Catholic College in Middlesbrough, Louise Dwyer, quoted Albert Einstein as she praised students for their hard work and tenacity that enabled them to overcome the challenges of the pandemic.
"Einstein once said, 'In the middle of difficulty lies opportunity'," she said. "This quotation sums up the journey the class of 2021 have been on here at Trinity Catholic College Sixth Form.  
"Our Year 13s have spent much of their post-16 study working remotely from home," she said. "However, out of adversity comes great strength. The class of 2021 have remained focused and driven throughout their time here and we could not be more proud of them.
"We are delighted to note many fantastic individual achievements and to see that our students will be going off to study in some of the country's most prestigious universities.
"I would like to thank all our parents, staff and governors for their dedication and the support they have given to the class of 2021 over their time here at Trinity Catholic College.
"I wish them all the very best in their next adventures – they will always be members of the Trinity family."
Among Trinity's many success stories is aspiring inventor Paul Varkey, who achieved A* grades in chemistry and maths and an A in physics. He is going to study aeronautical engineering at Loughborough, one of the country's top universities for engineering.
Paul has been with the NPCAT family since primary school, attending St Joseph's in Middlesbrough before moving on to Trinity from 11 to 16 and then studying for his A levels at Trinity Sixth Form.  
"I couldn't have done it without the help of Trinity staff and I am enormously thankful for the support," he said.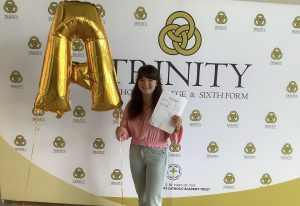 Rachel Constantinou will study Law at one of the country's most prestigious universities, Durham, after being awarded A* grades in English literature, history and sociology.
Rachel attended Sacred Heart Catholic Primary in Middlesbrough before moving on to Trinity.  
"All the hard hard work I have done has paid off," she said.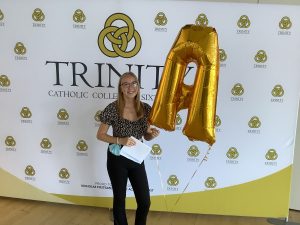 Elena Chadwick achieved A* grades in biology and sociology and an A in English literature. The former St Augustine's Catholic Primary pupil will go to Sunderland University to study Paramedic Science, an extremely competitive course, before becoming a paramedic. 
"I was so pleased when I opened my results," she said. "I'm just so happy – thanks to all my teachers for helping me."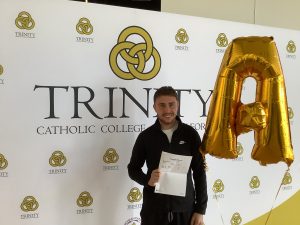 Joe Tempestoso has set his sights on working in public health after achieving an A* in geography and As in both English language and business. Joe attended St Edward's Catholic Primary School and completed his GCSEs at Trinity.
He has been accepted by Newcastle University, where he will study a joint honours degree in geography and politics. 
"I'm happy with my results, especially the A* in geography, as I enjoyed that subject the most. Thank you to all my teachers for their support, not only for the last two years but also during my five years at secondary school."