Following National Curriculum requirements, we teach a broad and balanced curriculum and aim to provide an interesting and stimulating educational experience to allow all pupils to fulfil their potential.
Every effort is made to identify each pupil's abilities at the earliest stage possible. At this early stage we aim to ensure that each pupil not only has their work ideally suited to their abilities, but also has the opportunities to forge ahead and discover their true potential, physically, academically, emotionally and socially.
There have been a number of initiatives introduced around the 11–16 education system, including reformed GCSEs and significant changes to assessment systems at KS3 and KS4.
As part of our "Engagement with Parents", we have produced Curriculum Guides for KS3 (Y7, Y8, Y9) and KS4 (Y10 and Y11) as clarification of the curriculum content and assessment. Copies of the guides can be provided upon request.
Every department offering a subject at KS3/KS4  has been included in the guides and also on the following individual curriculum pages. Each subject has:
An explanatory overview

Topics to be taught across the year

How your child is assessed

Expected homework

Available support and extracurricular opportunities.
We hope you find the information in this guide useful and that it enables you to support your child in partnership with the school.
If you have any further questions, please don't hesitate to contact [email protected]
Key Stage 3
At KS3, pupils study the following subjects: English, Mathematics, Science, RE, PE, History, Geography, Modern Foreign Languages (French, German or Spanish), Computing & ICT, Art, Technology, Music, Drama.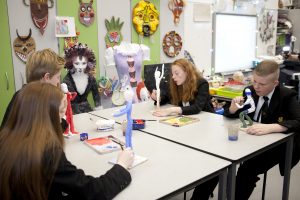 Following a pupil's acceptance into one of our schools, careful consideration is given when placing them into a form group.
Most subjects are taught in teaching groups, with one or two of these being specifically for pupils requiring support with additional needs. The remaining groups will be of mixed ability, although there may be times when very able pupils are also allocated to a single group.
Allocation to teaching groups will be determined according to prior attainment. In mathematics, pupils are set by ability in Year 7. Allocation into sets takes place in other subjects if appropriate as pupils move through the key stages.
Assessment
Key Stage 3 Assessment (without National Curriculum levels)
Our new assessment system is aimed at encouraging all pupils to achieve a sound understanding of what they have been learning before they move on to the next topic or area.
We do not set a limit on achievement and believe effort and application combined with excellent teaching and assessment will allow all pupils to achieve their potential.
We will incorporate many of the practices we have used for many years to ensure pupils are being assessed meaningfully but will move towards a system of Progression Maps, which clearly indicate what a pupil needs to achieve and how they will reach their target and the next steps to be taken.
Pupils will be placed on individual flight paths, which will carefully track back from GCSE to the point where they are currently working.
We will continue to use a range of information from prior attainment data such as KS2 levels, CATs scores, reading tests and baseline assessments within departments, as well as qualitative information from our partner primary schools, to set appropriate and challenging targets.
As National Curriculum levels are phased out at KS2, we will use the new format of testing to generate estimated GCSE grades. This information will be used to place pupils into four flight paths. For example:
| | | | |
| --- | --- | --- | --- |
|    KS3 Flight Paths     |    KS2 Levels    |    GCSE (Current) Grades    |    GCSE (New) Grades    |
| Extending | 5B+ | A* / A1 | 9-8 |
| Secure | 5C- 4B | A2 – B2 | 7-6 |
| Developing | 4C – 3B | B3 – C3 | 5-4 |
| Foundation | 3C – 2 | D-G | 3-1 |
These flight paths will not necessarily be set in stone and may be adapted over the academic year. Parents will be informed as this happens.
Key Stage 4
We offer the following qualifications to pupils at Key Stage 4:
GCSE
BTEC
OCR Nationals
NCFE Certificate
Understanding the different qualifications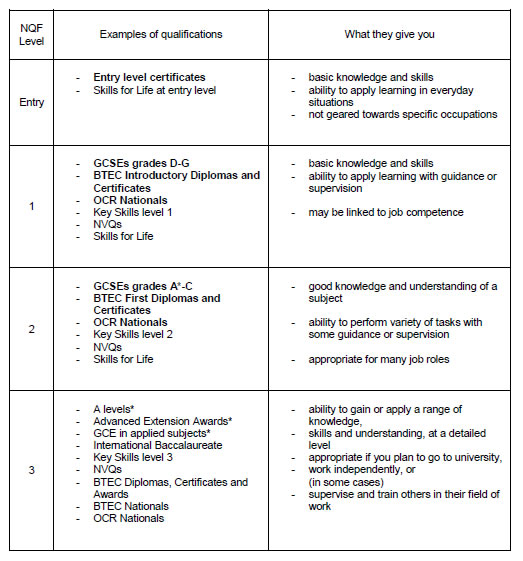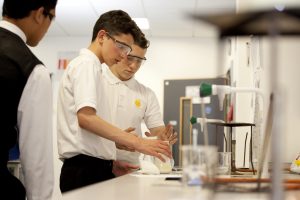 At Key Stage 4 (Years 10 and 11), all pupils study the core subjects, together with the subject choices they make from a wide range of options. The core subjects include Religious Education, English (including English Literature), Mathematics, Science, Physical Education and a Guidance Programme.
Pupils may choose one subject from a range of our specialist options. The option choice includes triple science, which allows the opportunity to take examinations in three separate sciences rather than the Dual and Single Award Modular Science qualifications included in the core.
An increasing range of vocational subjects is offered at Key Stage 4 including Business Studies, Engineering, ICT in Creative Studies and Interactive Media, BTEC Sport, Product Design.
Assessment
New KS4 Grades
The government announced in 2014 that GCSE's and A-levels would be reformed, beginning with English and Maths GCSE.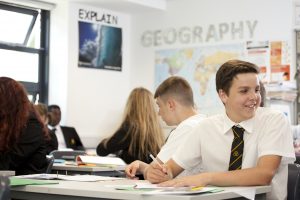 The main differences of the reformed GCSEs are:
They will be more demanding
They have been designed for a two-year period of study
They will be linear, so pupils will take all of their exams at the end of the course
Non-exam assessment will be removed or reduced in the majority of GCSEs
They will have a new grading scale from 9 to 1
Reformed GCSEs will be introduced gradually over three years from September 2015, starting with Maths and English.
They will be graded from 9 to 1, instead of A* to G.
Pupils taking GCSEs over this period will, therefore, receive a mixture of 9 to 1 and A* to G grades. Pupils will not lose out as a result of the changes.
Further information can be found by searching "GCSE and A level reform" at gov.uk or typing the following address into your search browser; gov.uk/government/uploads/system/uploads/attachment_data/file/465873/your_qualification_our_regulation.pdf
Reference: "Your qualification, our regulation – GCSE, AS and A-level reforms in England", Ofqual, 2015