St Patrick's Catholic College, Thornaby, head of school Deborah Law praised pupils for focusing on their studies and showing such resilience and maturity in difficult times.

"We are delighted with our pupils' individual achievements throughout the last two GCSE years," said Miss Law. "They have been on a unique journey and without doubt have faced a variety of significant challenges along the way.

"We are incredibly proud of how the pupils faced each hurdle with strength and determination in order to achieve the results they have received today.

"The pupils remained focused throughout their studies and adapted to online learning with sheer resilience, commitment and maturity."

Executive head Michael Burns added: "Every individual pupil has developed skills and knowledge that will remain with them for life.

"We will continue to offer them support as they move on to their new destinations and we thank parents and carers for their support throughout these unprecedented times.

"All the staff of St Patrick's Catholic College and the Nicholas Postgate Catholic Academy Trust wish our pupils the very best as they embark on their exciting futures."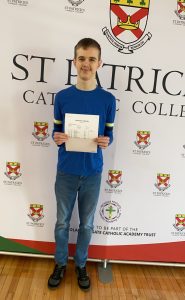 Former St Patrick's Catholic Primary School pupil Matthew Lees has been a high performer throughout his time at St Patrick's, always showing a mature attitude and articulating his views with confidence. Matthew has achieved results to be proud of in his GCSEs, with grades 8 and 9 in his science and Maths. He has also been awarded the English Baccalaureate (EBacc) qualification. 
"I look forward to using my GCSE success to continue with further education in the sciences field," said Matthew, who has his sights set on a career in physics. Massive thanks to all the teachers – I couldn't have achieved these grades without their continued help and support."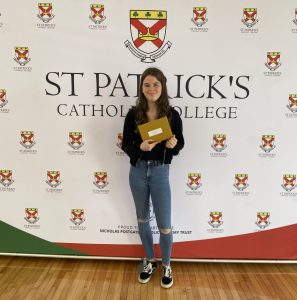 Francesca O'Kane, another former St Patrick's Catholic Primary pupil, is elated after achieving grade 9s in RE and geography, and a Level 2 distinction in sport science, as well as the EBacc. 
Francesca has been an outstanding role model for younger pupils and is also a keen sportswoman, who has represented the school in many events. 
"I'm lost for words – hard work pays off!" she said. "These results have really made me happy, as I can now continue and complete my A levels in further education. I enjoyed school and miss it so much. I appreciate all the help and support from my teachers and want to thank them all a lot."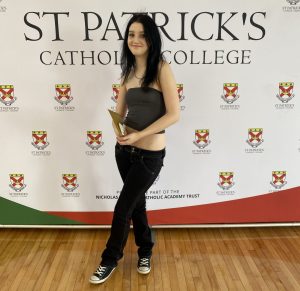 Former St Patrick's Primary pupil Eden Trotter was delighted after achieving a grade 9 in English and History and a grade 8 in RE and art.
"I am really proud of my results and want to continue studying English literature and history at A-level," she said. "I don't know what I want to do in my future but I am overjoyed that these results can drive me on further to achieving more."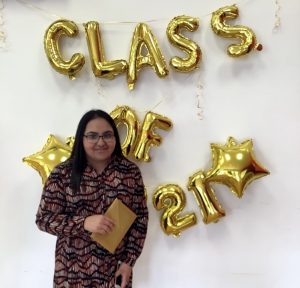 Conscientious and hardworking pupil Amina Mazhar is on course to achieve her ambition of becoming a paediatrician after achieving a grade 7 in maths and a grade 8 in science. 
"I have achieved higher than I ever imagined and am overjoyed," she said. "I'm grateful for all the hard work and support the teachers have put in to help me achieve these grades and set me up for the future."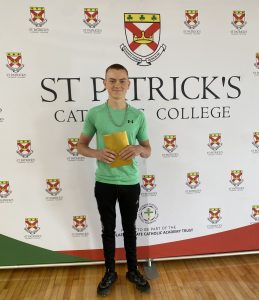 Jack Humphreys, a former Christ the King Catholic Primary pupil, was delighted after passing all his subjects. Jack has been a huge asset to the St Patrick's community, taking a lead role in charity events and attending the annual Lourdes pilgrimage.
"I am buzzing with my grades and wasn't expecting to achieve all that I have," said Jack, who would like to be an electrical engineer. "I am so happy that these results will open more career doors for me. "Thanks to all the staff who have supported and guided me through the journey."