Headteacher of Trinity Catholic College in Middlesbrough Louise Dwyer quoted the great physicist Albert Einstein as she paid tribute to her pupils' impressive achievements. 
"Albert Einstein once said, 'In the middle of difficulty lies opportunity'," said Mrs Dwyer. "This quotation sums up the journey of the class of 2021 here at Trinity Catholic College. Our Year 11s have spent much of their key stage 4 study working remotely from home. 

"However, they have remained focused and driven throughout their time here and we could not be more proud of their hard work and tenacity. We are delighted to see so many of our pupils living out our school mission statement and achieving their potential."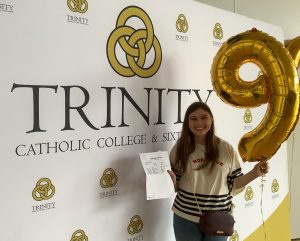 Deputy head girl Phoebe Teasdale achieved excellent grades against all the odds, having been forced to shield for the whole of Year 11. The former St Edward's Catholic Primary pupil achieved four grade 9s and a distinction*.
"To do this despite studying from home is a remarkable achievement and a real inspiration to others," said Mrs Dwyer
"Phoebe has been a fantastic ambassador for Trinity. As well as her involvement in pupil leadership, she has also contributed to the arts through her singing and performances in school productions and liturgies."
Phoebe added: "I'm elated and relieved. It's been a challenging year and the support from school has been amazing. I'm coming back to Trinity Sixth Form to study English literature, RE and history."

Phoebe hopes to go to Oxford University and eventually become a politician.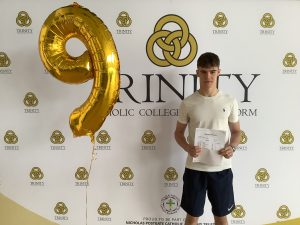 Former St Bernadette's Catholic Primary pupil Noah Brooks achieved fantastic results, with eight grade 9s – including English and maths – and one grade 8.
Noah, who is a keen sportsman and was a key member of the school football team, fully deserves his success after five years of dedication and determination. He would like to be a stockbroker or own his own business and is going on to study maths, physics and business.

"Thanks for all the support from my teachers for helping me get where I am," he said.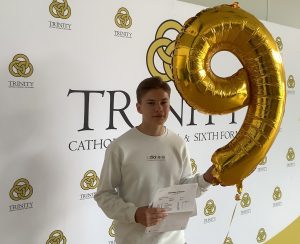 James Chadwick achieved grade 9s in English, science, maths, geography and RE, plus two grade 8s.
Former St Augustine's Catholic Primary pupil James has shown a terrific work ethic and dedication to school life throughout his five years at Trinity.
"Next year I am attending Trinity Sixth form to study maths, physics and geography," he said. "I am ecstatic for my results and cannot thank my teachers enough."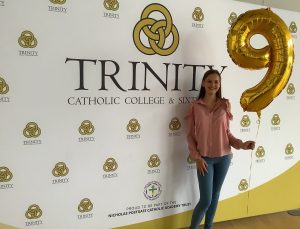 Ella Mae Spearing achieved excellent results, with grade 9s in five subjects, including English and maths. Next year she is going to study maths, chemistry and biology at Trinity Sixth Form. 

"I really would like to be a surgeon, so my results have enabled me to follow this pathway. When I opened the results I was over the moon. I am completely overjoyed.
"I cannot thank my teachers enough, especially Mr Stockton and Mr Legg and the maths department."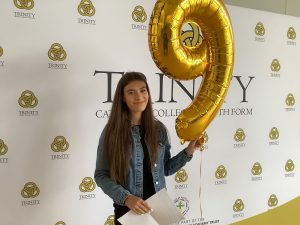 Libby Springthorpe, one of Trinity's Year 11 student leaders, was delighted with her impressive results. Libby received four grade 9s, including English language, RE and history. Next year she will begin studying maths, chemistry and biology at Trinity Sixth Form before hopefully studying medicine at university.

"I'm really happy with the results and I cried with joy when I opened them," she said.
Libby has always shown a wonderful attitude to her studies and her teachers wish her every success in the future.