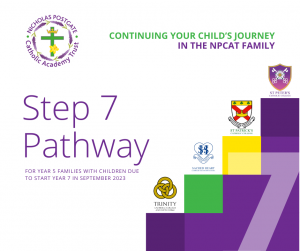 In September 2023, your child will make the important transition into secondary education – and we hope that journey will continue within the NPCAT family of schools.
NPCAT is keen to work with parents and carers of our current Year 5 pupils to ensure that every child who would like a place in one of our rapidly improving secondary schools has the best possible chance of getting one.
Your local council is ultimately responsible for allocation of secondary school places and applications will, as usual, be submitted to them in the autumn term of Year 6.
The NPCAT Step 7 Pathway will run prior to and alongside that application process to ensure that we can support all our primary school pupils in securing a secondary school place that best meets their needs.
The Step 7 Pathway booklet explains everything in more detail and is accessible via the link below. Once you have read the booklet, please complete the parental questionnaire on this page by no later than Friday 13 May 2022.