Around 500 year 9 pupils from four secondary schools came together to hear a Holocaust survivor's moving testimony.
Children from Trinity Catholic College, St Patrick's Catholic College, St Peter's Catholic Colege and Sacred Heart Catholic Secondary heard how more than 400,000 Hungarian Jewish men, women and children were herded into ghettos, before many were deported to Nazi concentration camps.
Judit Brody told the story of how her family managed to stay safe in Budapest throughout the war, although many of her friends were sent to their deaths after the Germans occupied the country.
"Jewish people had to move into the ghetto, which was surrounded by a wooden fence," said Judit. "A man living close by called Leo had a huge apartment and hid people above his ceiling, but he wouldn't take children because children make noise.
"My parents managed to find a family who would take us while they hid with Leo, but after a few days the family got scared and decided they didn't want to hide us, so my parents had to leave and look after us."
Fortunately, they were able to obtain special protective papers from the Swedish Embassy, which enabled them to move into a building where they were safe until Russian troops liberated the country at the end of the war, by which time Judit was 12.
"Soon after the liberation, I went for a walk with my father and when we walked past the entrance to the ghetto there was a huge hill of dead bodies," Judit said.
Judit married and went to university, but after the failed uprising against Communist rule in 1956, she fled Hungary and settled in England.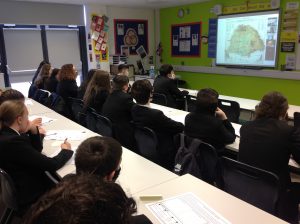 Natalie, from Trinity Catholic College, asked if Judit knew anyone who was set to a death camp.
"Luckily, my grandmother was staying with us in Budapest when the Germans came," Judit said. "But she lost everything, including all her friends. I knew them all. They were all taken to concentration camps. We made friends with the children when we were there for holidays and none of them survived."
Sacred Heart Secondary School pupil Henry asked if Judit had any resentment towards Hungary.
"That's a very difficult question to answer," she said. "I've been back and in some ways I felt at home and in some ways I felt, no, these people wanted to kill me."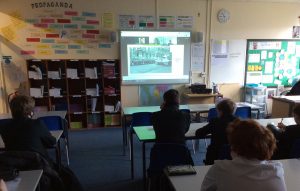 NPCAT History lead Phillip Scarr said the virtual event had been a big success and would help pupils understand what happened to Judit and millions of others during the war.
"The Holocaust is more than just a topic to be studied, it is very much a lesson for humanity to learn," he said. "Judit's testimony adds a personal dimension to our study.
"Of course, pupils need to engage with the overarching events, such as the numbers of people murdered and displaced, but it is equally important to show them the stories of individuals, how their lives were affected. Judit's talk leaves us with plenty to reflect on and pick up in lessons."
Trinity Catholic Sixth Form students were also invited to join the event, which was organised together with the Holocaust Educational Trust.
Lay lead chaplain Angela O'Brien closed with a prayer, asking all present to take a moment to think about what they had heard and the survivors and all who died.