Project 35:35 "Is God Working?"
In these times of uncertainty, there are many who may question how anyone can possibly believe in God and, if they do, why He would let something like this happen. 
Despite this, believers are flooding social media, reaching out to their places of faith, as faith leaders reach to them in return. They pray in earnest and yearn to be back in their places of worship. Why do they do this?  What is your response in these times? So we ask the question, is God working?
Welcome to our online gallery where we are showcasing some of the work that was submitted in response this question.
Category 1: EYFS & Key Stage 1
Gold award – Corpus Christi Catholic Primary School
This pupil made a song as well as this picture.
She said "I'm saying prayer is the only way. God is there he listens to us. 

God protected Noah and his family when there was rain storm for 40 days. It's like that now we are stuck indoors because of coronavirus. I believe if we continue to pray God will help us. So I made a song believing in prayer.

I want everyone to know that if we believe and pray God will answer. Believe God. Trust God."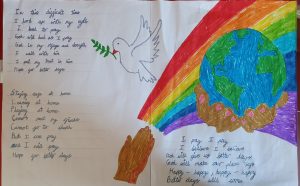 Silver award – Christ the King Catholic Primary School
"My entry is a video (see below for link to the video) I created my video by colouring pictures and writing a prayer. My mam and dad helped me take the photos and create the video. I wanted to do this so I could let everyone know that God was still with them. My video shows that I am thankful for all key workers and the NHS who work very hard to help others, as God would want us to."

Bronze award- St Paulinus Catholic Primary School

The picture was done in pencil, pencil crayon

s, felt tips and glitter. The inspiration for the picture was people's kindness and cute things. The picture represents God's love. 

The picture: This is a cute kind angel. Cute and kind show God's love. People being kind shows God's love. 

The message:

Despite the Corona virus  there is God's love and kindness all around us. People have shown great kindness and God never stops loving us.
Highly Commended
St Gabriel's Catholic Primary School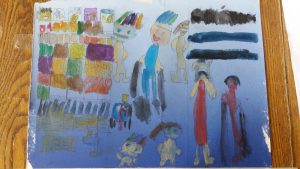 'Helping'
Watercolour
"The inspiration for my painting was 'helping other people.' There are 3 parts to my painting.
The first part shows 'doing shopping for someone else.'
The second part shows 'doctors and nurses helping the sick.'
The third part shows 'helping someone at the shop.'

This demonstrates my faith because it's all about being kind. If we were not kind, we would not be like Jesus.

This piece made me think about helping other people. I thought about how I could help someone in the shop by reaching something high up, if I was on my daddys shoulders.

I would want people to think about what it meant, and want to be kind to each other."
St Patrick's Catholic Primary School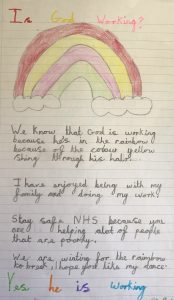 This picture is the explanation for the video that this pupil created. (To view the video see the link below)
St Patrick's Catholic Primary School
I am little
I am small
I am not very tall
How do I know if God works through me at all?
I asked the people closest to me
To look at me and what do they see?
(To see how God works through me watch the video below where my family and friends share how they see God in me)
Oh wow I bring all these things to my family and friends
I guess I found out that God does work through me in the end
Category 2: Key Stage 2
Gold award – St Paulinus Catholic Primary School
We created this dance in response to the question, 'Is God Working?' 

We sat down and thought carefully about what is actually happening in the world. Although these are very difficult and challenging times, we believe that God is working harder than ever to bring people and communities together in love and hope. Before all this happened, lots of people were sad and lonely, but God has shown them how to love and support each other and hopefully this love will last. People are scared and frightened but they still have their faith, especially when they are able to be in the company of others, even if it is just on the phone or on an iPad. It is not God's fault but He is working hard to unite us. 

Our dance is about two neighbours who used to go about their daily lives alone and never bothered with each other. One day, one neighbour is unfortunately struck down by coronavirus and gets really poorly. The neighbour sees them struggling and helps by buying them shopping and looking after them. At the end, they are friends and they do things together, which makes them much happier. 

We think this reflects what is happening in our street, in our town and in our country. Even around the world!
Silver award – St Joseph's Catholic Primary School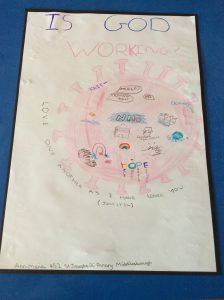 "'Is God working?' has made me think about how the pandemic is bringing people closer spiritually. The speech bubbles tell that people are talking to others more. Everyone is helping each other. As Catholics we believe to help others as Jesus told us. 'Love one another as I have loved you.' (John 13:34) The picture of a a food bank, the earth, Captain Tom Moore and clapping hands represents helping others. We need hope and faith to go through the pandemic. The rainbow represents hope. As we do not use cars much anymore, we don't cause pollution. To symbolise this I drew a happy fish. God helped us find methods to fight Covid-19. Washing hands regularly is one of them."
Highly Commended
St Gerard's Catholic Primary School
Is God Working
Remember when God stood with Shadrach, Meshach and Abednego in the fiery furnace.
Remember when God stood with Daniel in the den of lions.
Remember when God stood with Moses and lead the Israelites out of Egypt.
In all these difficult times, God was working.
Do we see the sun rise every morning?
Does the flower still bloom?
Do the birds still chirp?
Are the new-born's coming through with their mother's guidance?
Through all these blessed moments, God is working.
So remember, never lose hope, God works in mysterious ways.
 His ways are past our ability to find out and
 Don't forget, He is standing with us today, working for our good.
Category 3: Key Stage 3
Gold award – Trinity Catholic College
The reason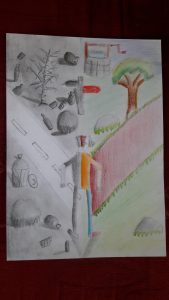 God is not interfering with the pandemic is because God only guides us and will not interfere with our lives. God wants us to come to him. God wants us to rebuild our relationships with God. This has happened because Jesus sacrificed himself for us to give us the opportunity to redeem ourselves. This artwork is supposed to demonstrate that and how we are the ones who choose what happens on earth and god only guides us. This is shown in the work as there is two paths to choose and one is the wrong path and one is the right path as it is more colourful and lively but the other one is full of trash and has no colour and  we are the ones who choose our path and anything that happens is as a result of our actions. This is also shown in the artwork as we are the ones who walk down that path. Furthermore God has filled humanity with talent and skill to solve this type of situations. In the artwork there's an angel which represents God and if we listen to God the angel  will guide us to the right path  The artwork overall is supposed to represent how our decisions have brought us to the place we are now and God has been trying to guide us all this time but not to force us to do anything and we are the ones who choose what future we want.
Highly Commended
St Patrick's Catholic College

Category 4: Key Stage 4
Gold award – Sacred Heart Catholic Secondary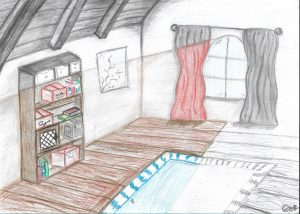 "My answer to this question is this seemingly innocuous piece of artwork, the light is representative of God – we often ignore the light and don't appreciate what it does for us, however when there is an absence of 'light' we lose our way and fall into darkness and perhaps fear. The attic setting is also metaphorical, we 'lock' God away into an old attic and forget he exists so we never see the good that is actually brought about as a result of this. The monotone/polychrome (with the colour being present in the light) relays a sense that living within God makes everything seem 'normal' however we don't realise how much better it is until we fall from God's graces into a monochrome existence (as shown in the picture).  The light could perhaps be better described as Jesus – the son of God who directly intervened in the fate of humanity as the true source of the light (the sun) is not present within the attic (which can be taken as a symbol of humanity or our denial of faith), the fact that there is also a divide between the light and the room (the glass of the window) is also representative of the separation between humanity and God, this I feel is a particularly good metaphor because the light can still 'work' through the window however it is a barrier. Overall, this image symbolises the fact that we try to ignore God and often don't notice how much he is at work in our lives until he isn't."
Category 5: Extended family of NPCAT – Staff, parents, grandparents, parish members and all associated with NPCAT
Gold award – St Mary's Catholic Primary School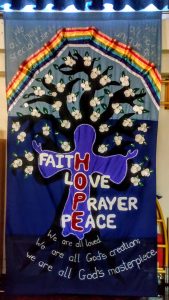 To see the explanation of the list piece watch the video in the links below.
Silver award – St Paulinus Catholic Primary School
My piece reflects pain, hope and love.
My picture represents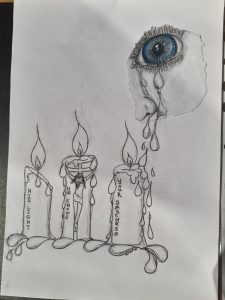 : Our pain, any pain, especially in this time of the Corona virus,  makes us search for help and to cry out…how?…why?…..where are you God?
Our agony and grief are evident. Look at the thousands dying. 
In this picture are: An eye (us) and three candles (like at calvary with Jesus in the middle).
The first candle: Shows our pain is his pain. Our tears are shown by the crying eye,  these join his tears shown by the dripping candle wax. These merge as one.
The second candle: Tells us he knows our pain and holds us in his love; just as he did when he was crucified. 
The third candle: Shows us that his light shines brightly casting away the darkness of adversity and we are led to his light for hope and healing.
The message: Never give up hope. You are not alone in your pain. You are very loved.
Bronze award – St Clare's Catholic Primary School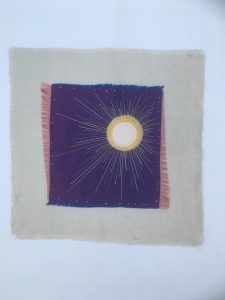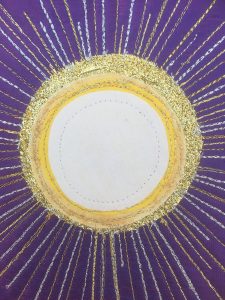 "Exodus 35:35 tells us of engravers, designers and embroiderers using blue, purple and scarlet yarn and fine linen to create fine adornments for the Tabernacle, a place of worship before the Israelite's arrived in the Promised Land.

I created my textile piece using a variety of fabrics, machine stitching and hand beading.

I was inspired firstly by the verse from Exodus 35:35. As a creative artist the colours in the text leapt out as I read it. The thought of using those colours grabbed my attention.

Blue speaks of God's transcendence

Purple His Royalty

Scarlett the blood that was shed for all of us

Gold and silver speaks of the Divine Kingdom and it's blessings

The white background represents God's Purity

I immediately knew which fabrics I was going to use for the main parts of this project – vintage linen and purple satin. The purple satin was woven using red and blue silk so as it was frayed it revealed the separate red and blue threads along the 4 sides.

The piece tells of the sacrifices made during lockdown. The central white sphere is the Host within the monstrance, surrounded by light with gold and silver rays radiating from the central focus – God. His light reaches out to us all and gives us that glimmer of hope. The gaps between the beads represent the small openings within the confines of lockdown, letting God's light re-enter our lives.

God sacrificed His own son Jesus. We have all had to sacrifice our freedoms; seeing and hugging our parents, children, grandchildren, our friends and colleagues.

I hope that people will understand even more than ever that there is always hope no matter what difficulties we endure.

Have faith and in turn we will have hope."
NPCAT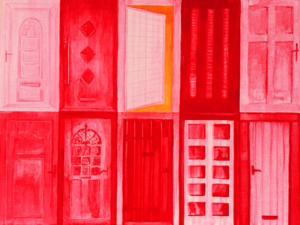 "Most days during the lockdown I have gone out for a walk through my neighbourhood.  As I go past a house or the end of a street where people I know live, I have been praying for them and thinking about the relationship that I have with them.  In many cases these are people who have shared my faith journey and who I consider to be my church family.  We have shared our joys and our sorrows over the years, celebrating milestones and family events.  We have willingly opened our homes to each other sharing meals, bible study and chat.  We could call on one another and provide physical comfort and support without hesitation.   But, in these times, I cannot knock on their door to enter their home, or welcome them into mine.  I am sorrowful, to be cut off from my church family.

As I walked, I reflected on the words of Jesus from the gospel of Luke.

"So I say to you; ask and it will be given to you; seek and you will find; knock and the door will be opened to you.  For everyone who asks receives; the one who seeks finds; and to the one who knocks, the door will be opened."  Luke 11 v 9-10

It is so easy to become focused on all that has been taken away from us during this crisis that we can miss out on just what has been given.  God reminded me to look again.

We have more time at home with family members of our own household.
We have more time for ourselves – a breathing space from a normally very busy life.
We have the cleanest air I can remember, making walking outside a joy for anyone suffering from breathing problems.
We have quiet to listen to the birds singing so gloriously about the new day.
We have the opportunity to walk in the sunshine and admire the wonderful colours of the spring flowers.
We have time to reflect on what it means to be a member of God's family.

This painting was executed as a reminder that God is always available, His door is never closed, entry into His kingdom is not forbidden due to government rules.  "Your heavenly Father knows how to give good gifts to His children" – take time to receive them."
Across Categories
Highly Commended
St Gerard's Catholic Primary School
To view this video entry please see the links below
See Video Submissions Below: