Staff at Trinity Catholic College are focusing on supporting students on what headteacher Louise Dwyer described as an A-level results day "like no other we have known." 
"Everyone at Trinity Catholic College is so proud of the work all of our students have undertaken during the last two years and particularly how they have overcome the challenges they have faced in recent months," said Mrs Dwyer.
"This A-level results day is like no other we have known. So many of our students are celebrating achieving the grades they need to take their next step in higher education, training or employment, while others are being guided through the latest Ofqual guidance.
"The college's leadership team is continuing to support students in these most challenging of times. Our priority is to ensure that every one of those dedicated students has access to the very best guidance today and in the days ahead.
"I have ensured that the necessary support is available so that the appropriate steps can be taken to help our students as so many of them finalise university placements.
"The college is working with national and regional partners to determine the impact of the shift in guidance and how it impacts on our dedicated students."
Nicholas Postgate Catholic Academy Trust chief executive Hugh Hegarty added: "Today more than ever, the Trinity family has been here for our students, guiding them through this most complex of situations and stepping through the whole range of scenarios.
"As we do so we are mindful that the mechanisms and algorithms that have determined this year's awards might be modified further over the coming days as the national picture becomes clearer."
HIGHLIGHTS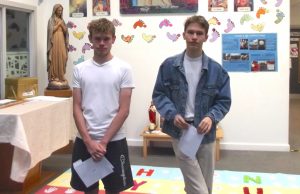 Twins Max and Nicholas Kelly both achieved fantastic results.
Max gained an A in Politics and Bs in Eng Language and History, while Nicholas achieved A*s in both Sociology and RE and an A in English Language.
Max is going to Oxford University to study History and Politics and would like to follow a career in politics, possibly as an MP.
Nicholas will take a gap year before studying English at university.
Max said: "I have had seven great years at Trinity and it's fantastic that it's led to me being successful in gaining a place at the best university in the world."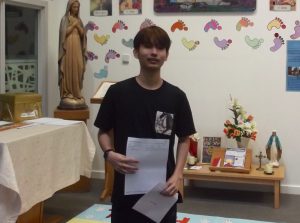 Lesther Llacuna Jr, who came to England from the Philippines just a few years ago, is going to Newcastle University to study Computer Science after achieving grade As in Maths and Computer Science and a Double Distinction* in Engineering.
His progress since being at Trinity has been remarkable.
"I would like to thank Mr Spence, Mr Smith and Mr Sacconne for all their help and support over these last two years," said Lesther.
Yoosuf Nasleem will take a gap year before studying Medicine at Munster University in Germany after gaining As in Biology, Chemistry and Maths and a C in German.
He is currently gaining invaluable experience working in a pharmacy.
"I wake up every morning feeling motivated and wanting to achieve my goal of working in medicine," said Yoosuf. "I am so happy and would also like to thank my teachers for getting me to this point."
Esme Traylen is looking forward to her foundation course at Northern College of Art next year after achieving an A in Art, a B in English Language and a C in English Literature.
"I'm delighted with my results and also relieved," said Esme, a former pupil of St Clare's Primary School in Brookfield. "I've loved my time at Trinity and I'm really looking forward to next year."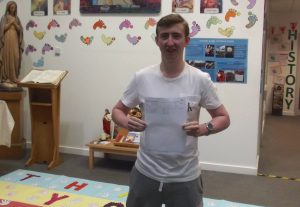 Callum McNulty will study Chemical Engineering at Teesside University after achieving As in Physics and his Extended Project Qualification (EPQ) and Bs in Chemistry and Maths.
"I am so pleased to get my results and secure my place at university," said Callum, who attended St Thomas More Primary School. "I've thoroughly enjoyed my seven years at Trinity and would like to thank all my teachers."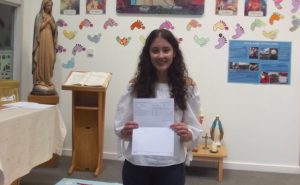 Laila Kaid will study English at York University after achieving an A* in her EPQ, As in English Language and Psychology and a B in English Literature.
"I'm delighted to get my place at York," said former St Edward's pupil Laila, who has her sights set on a career in Law or marketing.
"I'm currently making use of the extra time I have at the moment to gain invaluable experience by completing virtual internships in marketing."