Thursday July 1st 2021
Dear Parents and Carers,
It is with regret that as a consequence of the current increase in positive Covid 19 Delta
variant cases across school communities and following input from the DfE and Public
Health England, we will have to cancel the planned Year 6 transition days.
Whilst I share your sense of disappointment, I know you will empathise with the
decision which accounts for the need for our entire community to work together to
arrest the current increase in cases.
Yours sincerely
Hugh Hegarty CEO
NPQH | MSc | PGCCGC | BEd Hons| CTC
Nicholas Postgate Catholic Academy Trust
We are asked by the Bishops of England and Wales to stop, reflect, remember and pray on this day.
We are asked to reflect on what has happened and to take this time to place your own private intentions and thoughts.
All NPCAT schools asked to stop at midday with a minute's silence, where we take time to think of all of those whose lives have been so greatly affected by the events of this year.
The trust HQ will fall silent at noon with a minute's silence also.
The chapel will have reflections throughout the day for staff who wish some quiet reflection.
We reflect and pray for:
Those who have died. That God welcomes them and shelters them.
Those who have suffered physically, mentally and spiritually. That God heals them and cares for them.
For those who have worried about employment and security. That God, as a caring father protects them.
For those in families suffering with tension and difficulties. That God comforts and guides them.
For those who have shown selflessness, support and compassion to support and help others. That God continues to be within them as a light to others.
For those who have shown courage, perseverance and given hope to others. That God continues to strengthen them and guide them.
"For I know the plans I have for you," declares the Lord, "plans to prosper you and not to harm you, plans to give you hope and a future." Jeremiah 29:11
Hugh Hegarty
CEO
All 27 schools in the Nicholas Postgate Catholic Academy Trust were open this week and it was wonderful and so rewarding to be able to welcome our children back.
We recognise that our pupils and their families have experienced difficulties during lockdown and we aim to enable children to return to school and experience as much normality as possible.
The trust has high expectations of conduct and appearance throughout all our schools and we appreciate the support of our parents in maintaining these standards.
We understand that the timetable for shops reopening has created difficulties for some families and we will make reasonable adjustments on a case-by-case basis to reflect these unavoidable circumstances.
The trust's position on the wearing of face coverings is very clear and follows government guidance. The wearing of face coverings in indoor public spaces and in classrooms is highly recommended. We understand that some children are not able to wear a face covering for medical or other reasons.
Dear Parents and Carers,
Yesterday's announcement by the Prime Minister of a phased and cautious pathway out of "Lockdown" is most welcome.
With every announcement in respect of lockdown, the finer details of impact must now be fully considered.
The trust will work over the coming days to put in place the necessary measures, taking account of the risk assessments to ensure our schools are Covid secure and welcoming for both staff and pupils.
This phase of withdrawal from lockdown must be treated with caution as the PHE has set out the threat from the virus remains.
Parental support and pupil adherence to adapted structures and protocols will be essential.
For secondary aged pupils, the guidance on testing along with clarity on the rationale for testing and any associated permissions will be set out in the near future and we ask parents and carers to explore this information with all children in advance of 8th March.
With your cooperation, we aim to deliver the highest quality onsite education within the guidance for everyone from March 8th until the next review date in April.
Our headteachers will be in touch to give you the relevant advice in respect of next steps for your child's return to school in the week beginning 8th March 2021.
Yours sincerely
Hugh Hegarty CEO
NPQH | M.Sc. | PGCCGC | B.Ed. Hons.| CTC
Nicholas Postgate Catholic Academy Trust
Donations of cash and electronic devices have flooded in after St Pius X Catholic Primary School pupil made a touching appeal to help his classmates learn online.
George, a member of the school council, had all the equipment he needed to access Google Classroom lessons himself but realised many others were not so fortunate.
So he took to YouTube to ask for money and new or used tablets in the hope that no children have to miss out on their education during lockdown.
"I'm so lucky that I have this in my bedroom," he said, pointing to his own tablet. "But we need everyone to be learning, so please donate money to our school.

"Even if it's £1, it's fine. If you have old iPads that still work, that would be good. We are the future, we can do this – stay safe! Thank you." 
St Pius X began remote live learning for children in their homes on the Wednesday after the lockdown was announced, as part of a blended education programme. 
"George absolutely loved his online lessons and took part wholeheartedly," said head of school Nick Bennett.

"But while he was enjoying learning and seeing his teacher and classmates, he was also acutely aware of the fact that not all children were able to access the live learning at home as they didn't have devices.

"He felt compelled to do something about this and decided to launch an appeal on YouTube." 
The appeal has been a phenomenal success and to date the school has received donations totalling £790 from well-wishers, as well as two electronic devices from the Teesside Family Fund.
Famous former pupils at St Pius X, which is part of Nicholas Postgate Catholic Academy Trust, include Boro chairman Steve Gibson and TV presenter and former player Chris Kamara. 
You can see George's appeal here – https://www.youtube.com/watch?v=Vc31iN-4mE4
To donate to the school, please contact [email protected] or telephone the school office on 01642 314453.
When headteacher Angela McCann was asked how many devices were needed to ensure all pupils could continue learning during the lockdown, she hardly dared admit the answer.
After a quick survey of parents, she discovered that more than 50 families didn't have the digital technology equipment required to enable their children to take part in live lessons.
But that didn't faze generous local community organisation North Ormesby Big Local, who went even further by presenting St Alphonsus Catholic Primary School with 60 brand new Amazon Fire tablets.
"It's absolutely wonderful," said Angela. "Karen O'Hara from the North Ormesby Big Local has been fantastic in liaising with the school.
"They approached us when we first went into lockdown and asked if we had enough devices for our children who needed them.
"We sent out a questionnaire to our parents to see how many we needed, and I hardly dared go back to them and say we needed about 50. But they have given us 60!
"Our children want to get on and learn but are struggling because they just don't have the devices, or there are four of five children in a household sharing a phone and have to wait their turn for live lessons. This donation will make all the difference to those children."
Big Local development officer Karen O'Hara said they were delighted to be able to help.
"We heard children were having problems getting into the school programme, so I rang Miss McCann to ask if there was anything we could do," she said.
"I put her request for devices to the board and they totally wanted to support the school, just as we support anyone else in the area who is struggling.
"This is what Big Local is about, helping residents in our community. One of the main things we do is listen. It's a residents' project and if residents are in need we want to step in and support them."
Mayor Andy Preston, who has championed the fight against digital poverty, was invited to join North Ormesby Big Local board members for the presentation. It was his second visit to the school after he came in to talk to Year 6 children last year.
He said: "Nothing is more important to our children than a solid education, and that's never been more true than right now.
"The pandemic has hit schools hard, but we're all determined that no child in Middlesbrough will be disadvantaged because they can't get online.
"This amazing gesture will make a huge difference to many children and their families, and will benefit them for years to come."
St Alphonsus, one of the 27 schools in the Nicholas Postgate Catholic Academy Trust, is situated in one of the most deprived areas in the country.
The school uses online platforms including Google Classrooms, Purple Mash and Tapestry to enable children to access their work and return it to staff to be marked and gain valuable feedback.
"We use these platforms to deliver live lessons and resources throughout each day and it's vitally important for pupils to be able to access them," said Miss McCann.
"We are having to stagger and limit live lessons across school to enable siblings to share the limited resources they have or to gain access to their parents' phone to join lessons.
"Some don't even have this and are relying on paper packs provided by school, with no live input. Now, thanks to this generous donation, they are equal to their peers and have the same opportunities as every other child."
The tablets will soon be allocated and will be given out on home loan agreements.
North Ormesby Big Local gave out 120 comfort boxes to elderly people at Christmas, each containing a selection of treats and details of services that could provide additional help. They are currently putting together kindness boxes for parents who are suffering from stress during lockdown.
Dear Parents and Carers, 
Following the announcement late this evening that a full national lockdown will be implemented immediately, we can confirm that all NPCAT schools will be closed and only open to pupils of critical workers and vulnerable children from tomorrow morning.  
Please see this guidance detailing the list of critical workers.
Please note, this provision is intended to offer support to families only when both parents need to leave the family home to attend work and there is no alternative childcare available. You may be required to provide evidence of your employment.
As of tomorrow morning (Tuesday), all other pupils will have access to remote learning from the Google Classroom platform.
For pupils who are normally in receipt of a free school meal, a lunch will be made available for your child/children and school staff will be in touch with further information sometime tomorrow morning.
Further information will be circulated to you tomorrow morning regarding any additional individual school arrangements and considerations.
Thank you for your support during these ever-changing times.
Yours sincerely
Hugh
Mr H Hegarty
NPQH|M.Sc|PGCCGC|BEdHons|CTC
CEO
Nicholas Postgate Catholic Academy Trust
Pupils from Christ the King Catholic Primary School in Thornaby have teamed up with housebuilder Barratt Homes North East to help combat loneliness over the festive period.
Children wrote Christmas letters to residents at Ayresome Court Care Home, close to Barratt Homes' Leven Woods development in Yarm.
The partnership aims to put a smile on the faces of those who have spent the majority of the year away from their loved ones.
With new research1 stating that 6.4m people aged 70 and over are worried about the effect Covid-19 is having on their lives, the campaign was launched in response to what has been a particularly difficult year for elderly people across the region.
On receiving the letters, home manager Elizabeth Robinson said: "The pandemic has kept so many families apart this year and had a huge effect on wellbeing.
"Loneliness is something that has affected so many of our residents, especially at this time of year when they haven't been able to see their friends and families as often as they usually would.
"The residents all loved reading the letters from the children of Christ the King Catholic Primary School and we're really grateful to Barratt Homes North East for arranging this. It was definitely a much-needed morale boost."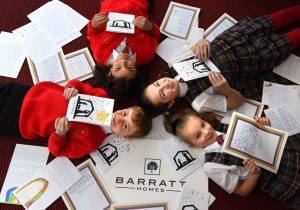 Gill Hurst, sales manager at Leven Woods, added: "It was a pleasure to be able to connect with a local primary school and get the children thinking creatively and writing personal letters to residents at a nearby care home.
"We understand how difficult it has been for older people, the struggles that they face and how loneliness can affect them, and we wanted to offer our support.
"On top of this, we know it is so important that we continue to help our communities around us over the Christmas period and beyond.
"We'd like to thank both the primary school and the care home for taking the time to get involved in this wonderful activity."
Friday 23 October 2020
Dear Parents and Carers,
All of our 27 schools will close their doors today for the traditional October mid-term
break. Given the stresses and strains associated with management of bubbles and the
attention to fine detail linked with risk assessments, hygiene and pupil and staff
wellbeing, it has been a period in school life like no other.
I want to thank you for your continued support and for your partnership since
September, this cooperation has ensured our children have been able to access such a
caring, nurturing and supportive learning environment.
As a trust, we are committed to supporting the community drive to eradicate the virus
and to this end, we would encourage parents, carers and visitors to our schools to
ensure where possible adherence to all social distance and face-covering guidance.
With the tier two restrictions in place, the traditional Halloween festivities will be limited,
however, I do hope that the break from school is enjoyed and I look forward to welcoming
everyone back safely on Monday 2 November.
Yours sincerely
Hugh Hegarty CEO
NPQH | MSc | PGCCGC | BEd Hons | CTC
Nicholas Postgate Catholic Academy Trust
The headteacher of Teesside's most in-demand primary school says it will take years for teachers to help pupils overcome the effects of lockdown and the coronavirus crisis.
Katie Haycock, currently head of Wolviston Primary School – which Teesside Live recently named the hardest primary school to secure a place at locally – says nobody yet knows what long-term damage has been done to children.
"The majority of Wolviston pupils wanted to get back to school to be with their friends and start learning again, but we've had to re-establish and relearn their routines," said Mrs Haycock.
"We carried out a wellbeing survey and the only reason some children didn't want to come back was worrying about their parents at home, especially if they had health conditions.
"But the long-term effects on children are still not known. It's not just this year, it's the knock-on consequences. If you didn't get your GCSE or A levels it can impact your whole career and the rest of your life."
Mrs Haycock, who will take up a new role as director of Special Educational Needs and Disabilities at Nicholas Postgate Catholic Academy Trust after Christmas, says vulnerable children and those with special needs have been especially badly hit by missing school during lockdown.
"This has been a difficult time for all of us and especially young people, but the effects are heightened for those children who already have anxiety and get upset by a change of routine or see the world differently," she said.
"They haven't had access to the specialist support schools are so good at providing and the one-to-one learning they're used to. Even the wearing of masks can be problematic with regards to communication.
"Schools will be assessing all children and looking at how they can put in catch-up interventions, but for children with special needs, we need to come up with bespoke, creative strategies.
"We also need to help schools support parents and carers because having a child with special needs can be rewarding but it can also be tough and at times very lonely.
"Parents have just spent six months helping children with their education at home while doing their own work and worrying about financial pressures and the prospect of another lockdown. They might also be concerned about sending their children to school because children with complex needs sometimes have underlying health conditions."
Mrs Haycock, who will join NPCAT after five years as head of Wolviston, says she will be building on the good practice she has already seen in place within the trust's 27 schools.
"I'll miss the children, but I started out teaching in NPCAT schools and it feels like a family," she said.
"My role will be to further enhance the provision of specialist help for children and support school leaders, SENDCOs and staff across the trust, as well as being there for parents."
The trust is creating specialist teams for counselling, educational psychology and speech therapy to support this work.
"A trust should be about collaboration and we'll be looking at how we can pool resources between schools," said Mrs Haycock.
"My long-term goal will be to have specialist hubs to share best practice and expertise. I'll also be looking at funding streams to support what we need to do.
"Being the SENDCO at Wolviston has given me a deeper understanding of the difficulties pupils and their parents face and there's nothing more rewarding than seeing children make progress.
"It's hard work and you have to celebrate small gains, but we also need to have high aspirations. With quality first teaching and targeted interventions, it's possible to make a real difference.
"If we act early enough we can narrow the gap to enable all children to achieve their full potential, so we need to break down as many barriers as possible."